Finishing School with The Popcorn Party Plan
End of School Year Popcorn Party Plan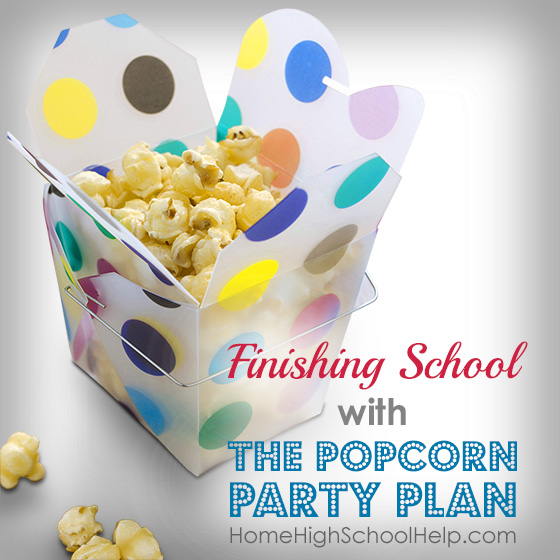 When it's time to finish up the school year, it can be difficult to feel done. For parents that are not completely done with a textbook or unit of study, then you may want to think outside the box in order to finish up your classes quickly – and still have time to enjoy summer.

If you want to quickly finish, consider finishing school with The Popcorn Party Plan.

Instead of sweating your way through the remainder of your textbook, are groaning through every single assignment, go the "quick and easy" route instead. When you are ready to pull your hair out if you don't get a break soon, it's time to take evasive action. Find some educational videos to finish up with school. Remember, not every class in high school has to be hard. I remember that I had some high school classes that were significantly easier than others! It's reasonable to decide right now that the class has been hard enough, so you can finish up the easy way.

Finishing school with The Popcorn Party Plan will help you have fun AND finish school.

Scour the video section of your library, or talk to the librarian, to see what supplemental videos might have you address the last concepts in your textbook. Pop some corn, pop in the DVD, and you can finish up the easy way. Make it a party setting, and celebrate the joy of homeschooling that gives you this flexibility. You can find videos that give a synopsis of history, algebra, biology, or health. You can use movies, documentaries, or lectures on DVD. Don't worry about doing everything the hard way. If you've been doing it the hard way all year, maybe now is the time to homeschool the easy way, and just finish up so you can take a break.