Finding friendships can be difficult.  It's especially hard when friends stop homeschooling, and begin going to public school.  I do have an article that may help:   
When Friends Stop Homeschooling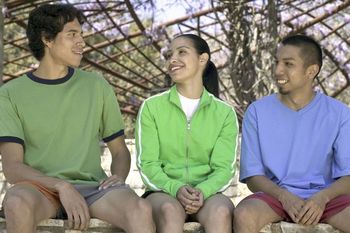 As homeschool parents, remember that real socialization doesn't have anything to do with "school." Real socialization is as normal and easy as having fun!
When I was homeschooling, we didn't meet other kids at co-op classes. We got together with other kids to have FUN!  We went on field trips, went to park days, met at support groups, and had show and share evenings. There is so much fun to be had! If you are looking for an opportunity for your children to find new friends, don't get stuck in the rut of looking for a classroom setting. Look for a youth group, a volunteer opportunity, math or science club, musical group, or a job instead. Remember the priceless friendships of  sibling, family, and church. Form a group of your own that meets for games, teen activities, fun at the park. Friendships happen when kids are having fun together, not when they are sitting in a classroom together.  So search for activities that might interest your child, perhaps something they specialize in – or maybe just WISH they specialize in! My sons loved soccer, baseball, swim team, chess club, and youth group. They helped at Vacation Bible School, and taught classes (chess and charcoal drawing) to other homeschoolers.
Finding fun is finding friends!

Curious about The HomeScholar? Read more on our About Us page!