Cover the Core and Capture Delight Directed Learning
Include as much delight directed learning as possible in your homeschool! This isn't because you want school to be easy or fun, but because you want it to be interesting and applicable.  When school is interesting, your kids will learn more and begin to LOVE learning more.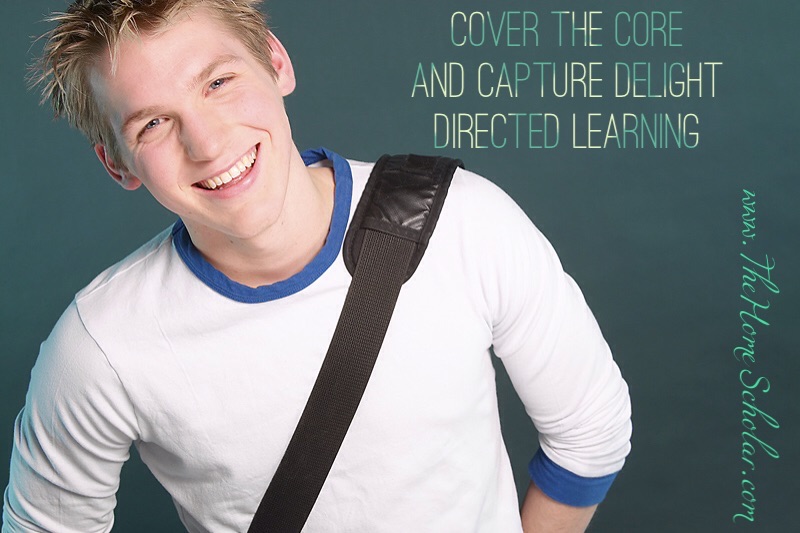 Cover the Core and Capture Delight Directed Learning
Parents do need to find a balance when incorporating delight directed learning, however. You want to both cover the core AND capture delight directed learning.
COVER the core classes of reading, writing, math, science, and social studies. Each family will have additional classes they consider non-negotiable, core classes. Try to teach those core classes in an interesting way. It's possible to teach core subjects using delight directed classes, but make sure you cover the core one way or another.
Once the core is covered, try to CAPTURE the delights of your child, and translate them into courses on your transcript. You don't have to plan, direct, or evaluate with tests or quizzes ... just capture the learning. When your child reads books, make a note of those books. When you get your records together, group books into classes, ie these are history books and experiences, these are computer science books and experiences. See the chapter about Delight Directed Learning in the e-book included in my
Total Transcript Solution
to discover the "Sticky Note Strategy" that will help capture those delight directed learning credits.
How do you cover the core and capture delight directed learning in your homeschool? Please share!

Please note: This post was originally published in October 2010 and has been revamped and updated for content and accuracy.
Stay Informed
When you subscribe to the blog, we will send you an e-mail when there are new updates on the site so you wouldn't miss them.
Comments
2
You said to look for that thing that bugs you, and try to capture it as delight directed learning. Pinterest is that thing that bugs me. My daughter can spend hours on it. Can it possibly qualify as any type of learning?
Thanks, jw
You said to look for that thing that bugs you, and try to capture it as delight directed learning. Pinterest is that thing that bugs me. My daughter can spend hours on it. Can it possibly qualify as any type of learning? :) Thanks, jw
Hi Jennifer,
If your daughter gets a job as a "social media manager" then you could chalk that time up to "occupational education"! Sadly, most of us are just "killing time" on social media. Pinterest is addictive for me, personally! LOL! I think I need to re-read Lee's article TechnoLogic: Setting Logical Boundaries on Technology with Your Teen
Robin
Assistant to The HomeScholar
Hi Jennifer, If your daughter gets a job as a "social media manager" then you could chalk that time up to "occupational education"! Sadly, most of us are just "killing time" on social media. Pinterest is addictive for me, personally! LOL! I think I need to re-read Lee's article
TechnoLogic: Setting Logical Boundaries on Technology with Your Teen
Robin Assistant to The HomeScholar