A CLEP Exam is a college level test that measures college level knowledge in a specific subject area. If a child takes and passes a CLEP test in ANYTHING then it goes on the high school transcript.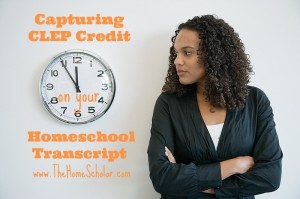 When determining high school credit for CLEP, it does not matter how long it took the student to learn the material. Whether it was 2 weeks or 2 years, credit is not determined by the hours of study. With CLEP, you give 1 high school credit for each test they pass with a score of 50 or more. Don't bother to count hours studying. This time, credit is being given based on achievement on the test itself.
The grade can always be an "A" or "4.0" regardless of the test score. Your child has taken and passed a college level course! This is much more difficult than a simple high school course, which is what you are grading. The course title will be the exact name of the CLEP Test, such as "College Composition" or "Principals of Macroeconomics."
CLEP Exams are normally taken during the high school years and placed alongside other courses on the transcript. Normally you treat it just like any other class on your transcript. It's helpful to note "CLEP" next to the title, so it is clearly a class tied to the CLEP test, and deserving of college credit.
If these tests are done during middle school, you can record these credits in a few different ways. 
1. You can record them as "Early High School Credits" as I often suggest putting early credits there. However, that may minimize the fact that these are actually dual enrollment college level classes, so I don't recommend doing that with CLEP scores. 
2. You can create a transcript that groups classes by subject (rather than by year) and put these credits within subject areas like English or Social Studies. 
3. You can create an area on the transcript for credits that are beyond high school. You might call it something like "CLEP Courses" or "Credit by Exam" or "College Equivalency" or "Dual Enrollment." That will highlight the fact these are COLLEGE level courses, not high school level courses taken in junior high.

Please note: This post was originally published in January 2011 and has been revamped and updated for accuracy and comprehensiveness.
The Comprehensive Record Solution provides what you need to create HOMESCHOOL RECORDS to amaze and impress the colleges.