Breaking News! The SAT test will change in Spring of 2016
The
College Board®
has just announced extensive changes to the SAT, saying that both the SAT and ACT "have become disconnected from the work of our high schools."
So they are changing the test. CHANGE. I know what you're thinking. Change; that dreaded word that reminds us all about changing diapers.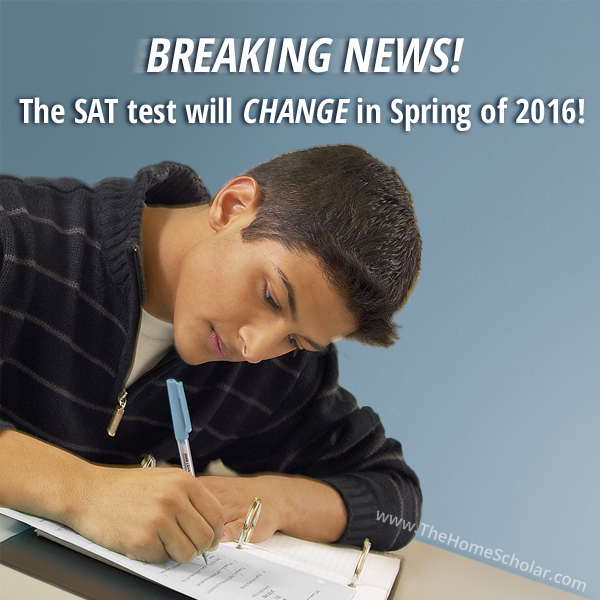 What is changing on the SAT?
The test questions are different


NO penalty for wrong answers


Offered in print AND on computer at selected locations


Only THREE sections: Evidence-based Reading and Writing, Math, and the Essay


The new exam will be about 3 hours, plus 50 minutes for the Essay


The Essay section will be OPTIONAL


The scores will be different


Scoring will go back to a 400-1600 point scale


Reading & Writing are combined and scored on a 200-800 point scale


Math will be scored on a 200-800 point scale


The Essay reported separately


The Essay is optional


The Essay prompt will be shared in advance and there will be focus on the essay of analyzing a source


The Essay score is reported separately


Since colleges want the ACT test with optional essay, I suggest you take the SAT with optional essay.


The test will include more subjects


Math focused on 3 key areas: Problem solving and Data Analysis, Algebra, and Advanced Math


Problems will be grounded in real world context: in Reading & Writing, students will be asked to edit and revise texts


Both sections will include problems from across the curriculum (science, history, geography etc.)


Students will be asked to read and answer questions and do analysis in science & social studies contexts


An excerpt from one of America's founding documents or "part of the great global conversation" will be included in every exam


When is it changing?


The first new test will arrive in Spring 2016


No immediate changes, and you don't have to immediately buy a new book


If you're taking the SAT this year or next year, you can stick with what you have been using


Whichever test you take, make sure to study for it: Schedule Test Preparation


When new study guides arrive, I tend to prefer Princeton Review materials best


Where to learn more
Executive Summary


The SAT is changing in 2016, now is no time to panic


Keep doing what you are doing


In fall of 2015, try to find new study guides that cover the new format


Are you in the middle of studying for the SAT with your high schooler? What are you doing to prepare?