Art College + Homeschool Transcript = Acceptance Letter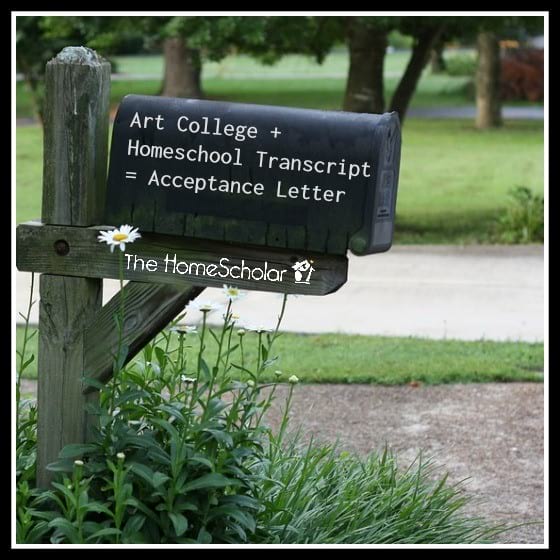 Going to college is not just about getting IN to college, it's also finding a way to make college affordable. That's part of why I suggest making a homeschool transcript. You want to accurately translate your normal, natural, unique homeschool into the words and numbers that colleges understand. That way when they see your homeschool transcript, they will say "Look at those academic achievements!" You and I know that we were fostering the love of learning in our child, and encouraging delight directed learning, like artistic pursuits. At the same time, by translating that wonderful experience into a homeschool transcript, we are speaking the love language of colleges. As they understand the academic preparation of our children, we are more likely to benefit from receiving scholarships.
See how it works in practice! This is a letter I just received from Michelle,

Dear Lee,
Thank you! Thank you! My name is Michele and I am one of your happy customers! I have a daughter that is getting ready to graduate, she is my first and I was so nervous on how to go about doing her transcripts. I ordered your transcript package and watched your webinars hoping to learn how to make them look good and what exactly to put on them. My daughter is an artist and had her heart set on going to Ringling College of Art and Design. So I studied the template of the transcript I thought best for me and started the process of entering all her information like you instructed on your videos. I had a couple of glitches so I emailed your site for help and they were SO great on getting back to me and helping me with my problem. You have a wonderful staff! Long story short : My daughter was accepted to Ringling College ( Which is a very small private art college of a total of 1400 students) Not only was she accepted but she was awarded a $24,000 scholarship for her application and academic achievements!! I'm so grateful for you and your love for helping us as homeschool parents. I have two more children to go... one will be in high school this fall and I feel more confident in getting them through. I've attached a picture of my daughter, with her acceptance letter. Thanks so much for your dedication in helping homeschool families.
God Bless you and Thank you!
One Happy Parent,
Michele
Congratulations to Michelle and her daughter! What an amazingly wonderful story! Great job finding a perfect fit college!


Comments
No comments made yet. Be the first to submit a comment