A Quick Homeschool Transcript Tip
Your child is in senior year and it's time to send the homeschool transcript! Some colleges want to see a hard copy of your homeschool transcript, a paper copy sent through snail mail. Other colleges, and some organizations such as camps and prospective employers, require you to provide your child's transcript by email. Here's a quick homeschool transcript tip for sending by email.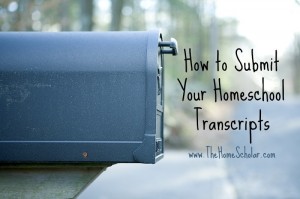 A Quick Homeschool Transcript Tip
When submitting your child's transcript electronically, make sure nobody but you can edit it. To make it un-editable, and therefore more official, save your transcript as a PDF document before emailing it. Microsoft Word 2007 (and subsequent versions) will allow you to "Save File as PDF." 
If you have an older version of Word, or a different word processor that doesn't allow saving as PDF, there are many free resources online you can download that will enable you to convert your documents into PDF format as well. PDF files also have the added benefit of being smaller files. That means they upload and download more quickly, both for you and the college on the receiving end.
So, remember to make a PDF copy of the transcript when you submit it electronically. Just don't forget to take a peek at it first, in case the formatting changes when it is converted into a PDF file.
Are you in the midst of sending out transcripts? Please share in the comments below!

Please note: This post was originally published in July 2010 and has been revamped and updated for accuracy and comprehensiveness.
Read what others are saying about The HomeScholar Gold Care Club! All the help you need for homeschooling through high school!
Stay Informed
When you subscribe to the blog, we will send you an e-mail when there are new updates on the site so you wouldn't miss them.
Comments
2
Hi Luke,

You make a pdf for the college, when you submit the transcript to the college, so you don't want anyone to edit it at all. You can always edit your own Word document again, and then create a pdf with the updated information. To fix a typo, fix it on the Word document, then make the Word document into a pdf again.

There is such a thing as a typeable pdf, but that's not the purpose of the transcript. The transcript is meant to be official, and not edited by anyone once it's done. But as a homeschool parent, you are the school registrar and you can change it when necessary to send it again.

I hope that make sense.
Blessings,
Lee
Hi Luke, You make a pdf for the college, when you submit the transcript to the college, so you don't want anyone to edit it at all. You can always edit your own Word document again, and then create a pdf with the updated information. To fix a typo, fix it on the Word document, then make the Word document into a pdf again. There is such a thing as a typeable pdf, but that's not the purpose of the transcript. The transcript is meant to be official, and not edited by anyone once it's done. But as a homeschool parent, you are the school registrar and you can change it when necessary to send it again. I hope that make sense. Blessings, Lee
Good tip, Lee!

Is there a special setting for making it so only you can edit the .pdf? I know that I've been able to fix typos and links in some .pdfs I've been sent (as I have Acrobat Pro). I have fiddled with the security settings, but I know there's a way to password protect editing of .pdfs as well. Have you found that necessary at all?

~Luke
Good tip, Lee! Is there a special setting for making it so only you can edit the .pdf? I know that I've been able to fix typos and links in some .pdfs I've been sent (as I have Acrobat Pro). I have fiddled with the security settings, but I know there's a way to password protect editing of .pdfs as well. Have you found that necessary at all? ~Luke