Check out these 5 Free Resources for a Personal Finance Class.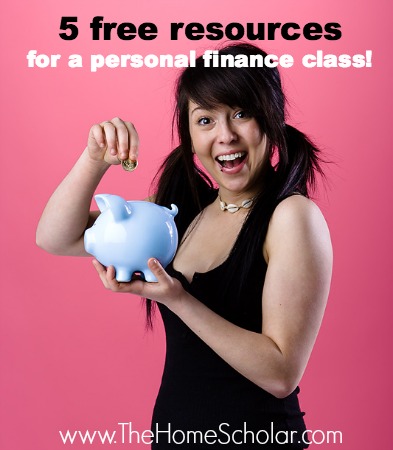 Each of these free resources will have a world view affecting their materials, and a purpose for promoting their agenda. That means you need to look it over first, and make sure it's a good fit. Remember that good, vigorous discussion will be helpful with any free classes, to make sure they match your family values. These are the resources I find the most objective and helpful.
1. FederalReserveEducation.org has lesson plans, publications, and games for students of all
ages.www.federalreserveeducation.org
2. PracticalMoneySkills.com has a section for Financial Literacy for Everyone. It includes lesson plans for all ages, and information for teachers.
www.practicalmoneyskills.com
3. Goodwill Community Foundation has tutorials and learning interactives that range from very basic money skills, like checking cash back or paying bills, to useful money management tips for budgeting, retirement planning, smart shopping and more.
www.gcflearnfree.org/money
4. MoneySKILL is a free online personal finance course with interactive curriculum for high school and college students. The course is designed to be used as all or part of a grade for courses in economics, math, social studies or personal finance. It includes written text, audio narration, and frequent quizzes in a 36-module curriculum
www.moneyskill.org
5. The FDIC's Money Smart for Young Adults curriculum helps youth ages 12-20 learn the basics of handling their money and finances. There are eight instructor-led modules, each with a fully scripted instructor guide, participant guide, and overhead slides, distributed on CD:
www.fdic.gov/consumers/consumer/moneysmart/young.html
Homeschooling is easier when you use a well-organized curriculum, and that often means paying for quality material. If you can invest in a good financial literary curriculum, I often suggest the Dave Ramsey course called "Foundations in Personal Finance: High School Edition" which has 12 classroom-style lessons on DVD. This full curriculum is enough material for a semester long class that meets 5 days a week, 50 min a day. Unit 1: Saving and Investing Unit 2: Credit and Debt Unit 3: Financial Responsibility and Money Management Unit 4: Insurance/Risk Management and Income/Careers. It includes a Teacher's Guide CD-ROM All the lesson plans, activities, assessments, case studies, syllabi, answer keys, and additional information to help the teacher implement the curriculum.