5 Final Reasons to Get The Comprehensive Record Solution Today!
Today is the final day to get my Comprehensive Record Solution at the introductory price of $97.
Tomorrow the price goes to it's regular price of $147.  We have written extensively why documenting your homeschool students comprehensive records is a smart idea for every college bound homeschool family.  Here are five final reasons you should consider today before the price increases.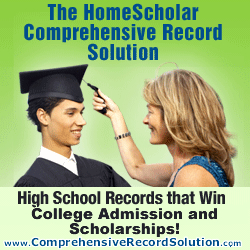 College admissions is a high stakes, highly competitive game and you need to present your best foot forward in order to set your student apart


Homeschooling provides students with some very distinct and quantifiable advantages that don't always shine through in the college application process.  A comprehensive record ensures those advantages are highlighted.


College Admissions officials are called on to make some very important decisions (admission and scholarships) using very limited data (transcript and application.)  Most will very much appreciate more information presented to them in a logical, easy-to-use format.  The comprehensive record is a proven strategy to give them what they want.


Documenting your student's records is amazingly motivating to students.  We have heard over and over how empowering and inspiring it is to share the process of record building with homeschool students.  It makes their homeschool education feel valuable and real to them.


Putting together homeschool records for your student's college application is a big job.  It is always easier to copy a successful model rather than creating one yourself.


Our comprehensive records were viewed by the colleges as a "best-practice."  Seattle Pacific University said they were "the best documents and records" they had ever seen.  We were awarded $184,000 worth of scholarships from that university and massive scholarships from the other universities we applied to as a result of the doors that were opened by our comprehensive records.   You owe it to yourself and your family to make this investment in a proven system and let me help you create your own beautiful, inspiring, door-opening records. 
I guarantee you will be very happy with the product and the results.
Get the Comprehensive Record Solution here.

PS.  We have a last chance Q&A webinar tonight at 4 PM Pacific time prior to the price increase.  Get all your final questions answered there!
Related Posts