3 Steps to Finding a College
Let me fill you in on a little secret. Finding a college is kind of like "finding" dinner each night.  First you have to go to the store and buy the food.  Then you have to decide how to cook it.  Then you make a gorgeous, colorful, and healthful meal on a perfectly set table with a fabulous centerpiece.... right?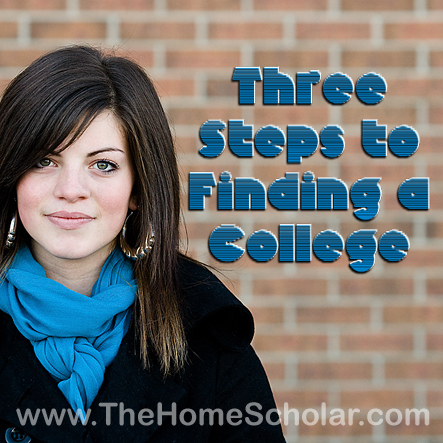 Haha!  Gotcha!  I know homeschoolers aren't typically the "centerpiece" type.  But you get my point - dinner takes both planning AND implementation.  So does finding a college!  You know how a newlywed doesn't know how to make dinner automatically?  Neither will you just intuitively understand the process of choosing a college. So let me share some thoughts on how to do that. Three steps.  That's all.  Easy peasy.
Step 1: Attend a College Fair
Step 2: Visit Colleges
Step 3. Choose Colleges
Read 
Three Steps to Finding a College.
If you need more than "simple easy peasy" steps, and you are reading to take a more advanced approach to finding a college, I have three resources that will help.
If you are a book person, then grab my book, 
The HomeScholar Guide to College Admission and Scholarships: Homeschool Secrets to Getting Ready, Getting In and Getting Paid
. If you love ebooks, then check out "
Finding a College:  A Homeschooler's Guide to Finding a Perfect Fit
" on Kindle.
Your best strategy for keeping all the balls in the air is preparation.  The HomeScholar Gold Care Club will give you the comprehensive help you need to homeschool high school. 
Related Posts