Burnout stings like a sunburn. It aches like a pulled muscle. It stinks like a teenager after a week-long mission trip. Here are three big cures for homeschool burnout that you can think about as you are planning for the coming year.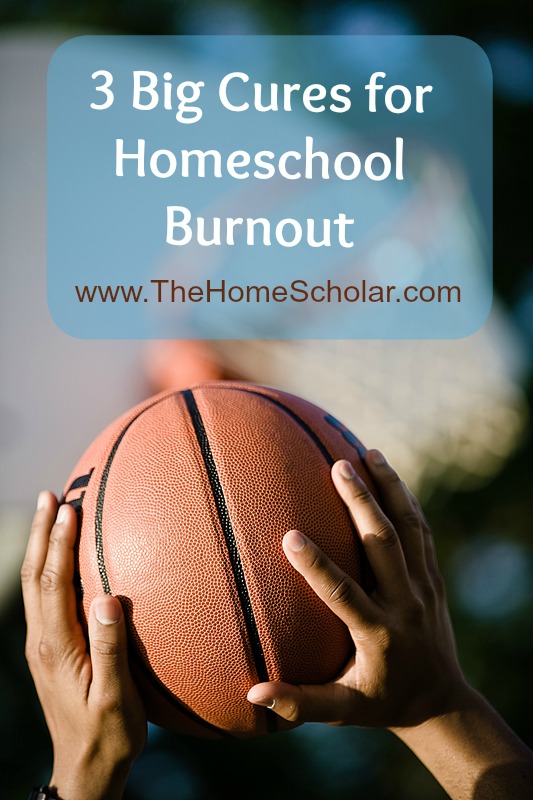 Stop for summer
You know, I think it just may be time to stop homeschooling for summer. Think about baseball players. Professional athletes get month off each year. They stop being athletes so they can recover physically as well as emotionally. Homeschoolers are like professional athletes, and others who work hard. We need a major break too! That's why God created summer.
Play a lot
If you are thinking about next year, remember that our tendency is plan do too much. You may want to assess how much work you are requiring from the kids and yourself, and see if it is just too much. As you plan your coming school year, include games and fun activities when you can to make it more enjoyable. Provide free time, so children can learn what they love through delight-directed learning. To us it may look like "play" but some of those annoyingly enjoyable activies can actually earn high school credits. Don't duplicate their work in a subject just because they love it, but instead let them learn naturally through delight directed learning that may look suspiciously like play.
Plan breaks
During the coming year, plan to take regular breaks. Working without a rest, vacation, or break will not help your children learn more. Instead, it can interfere with the love of learning. Taking regular breaks from school during the school year can help children learn more and love homeschooling more. And of course, it can provide some much-needed sanity-saving time for the teaching parent as well! Some families take all birthdays and holidays off. Others follow the breaks on the public school calendar, so they are reminded to stop now and then. It doesn't matter how you do it, just take some breaks to avoid frustration and homeschool burnout.