By Lee Binz
The HomeScholar


Celebrate your inalienable right to homeschool your way! Declare your homeschool independence and keep life, liberty and the pursuit of happiness at the center of your homeschool!

Declare
Sign your declaration of independence. In many states, the first way to declare your own independence is to sign a declaration indicating your intent to homeschool. Know your state homeschool law, and read it carefully. Be a fearless leader and declare your independence from the public school system. Skip the public school requirements, which are so arbitrary and ever-changing, and stick to your state homeschool law. Create your own declaration of independence, withdraw from the public system and rigid classroom structure, so that your child's education can be a perfect fit.

Tell people about your decision to homeschool. You may want to explain to them what homeschooling means, if they aren't familiar with it. However, you should not ask permission. Notify your family, inform and explain if you would like to, but don't rationalize your decision. This is a decision made by you, the child's parents, not by committee. You may express a patient, loving attitude, by simply saying, "I appreciate your concern, but I am responsible for my child's education."

Life
Embrace the homeschool lifestyle. Homeschooling doesn't end with declaring your independence - that's the beginning of your homeschool life and responsibilities. Our founding fathers successfully declared independence because they seized the responsibility of governing. Be like the founding fathers! Seize the responsibility of homeschooling. Minimize delegation, and resist enrolling, registering, or enlisting in a program. The homeschool lifestyle is at home, shaping and molding your children in your day to day interactions. If you aren't home, it becomes more difficult to embrace the lifestyle of learning that makes homeschooling more fruitful.

Watch for natural learning. Learning isn't limited to a specific time or place, it's integrated into life. It is not boxed in by a school year, only between the hours of 9:00 am and 3:00 pm. The homeschool life is REAL life, not a make-believe world of age-segregated groups of people. Embrace the freedom to learn naturally. Look for ways to focus on real-life learning, apart from grade-level workbooks and dry textbooks with limited information.


Liberty
Educate with liberty. Embrace your freedom and go classroom free. When you avoid school mentality and grade-level thinking, you can truly educate with liberty. Your children will never be "below grade-level" again, and you will begin to recognize that learning is the key, not standardized tests. You can educate at the perfect pace for your child, learning on purpose every day.

With the freedom to educate in a meaningful way, you can choose curriculum that fits your child's learning style and interests. Interested and engaged children learn more. The freedom to engage in unusual learning opportunities can help your children identify their passions, which can help them decide on their college and career goals. Learning in freedom will create leaders of tomorrow who are passionate about improving life, liberty, and the pursuit of happiness for others.

Pursuit of Happiness
Take time for fun. Pursue a relaxed and fun educational experience. Happiness isn't a pie-in-the-sky wish, it's a key ingredient for learning. The safe, secure, fun and free atmosphere of learning at home is a better way to educate children of all ages. Be sure to discover your children's learning styles, and be mindful of your own learning style. Education at home is faster, more convenient and more efficient. It doesn't require tests. It's less stressful, takes less time, and allows more time for fun. When you embrace learning with reckless abandon, your children can wiggle as much as they need to, follow along with audiobooks until they are 18, or solve medical mysteries when they are teenagers; it's all part of their homeschool education.

Encourage delight directed learning. While we want our children to be well-educated, and core subjects must be covered, we can still manage to pursue happiness. Everyone has subjects they don't enjoy, but parents can make the drudgery of a subject more fun with games and meaningful experiences. Everyone has subjects they love, whether it's math, music, writing, or P.E. Public education has the ball and chain of common core classes and electives are limited to classes teachers are interested in. When you homeschool, you can create an elective out of almost any of your student's interests. Core classes can be taught centered around your child's learning style, to maximize their delight in learning and help them develop to their maximum potential.

Celebrate Homeschool Independence
Celebrate your independence responsibly. Make sure you are in control, not someone else. Keep a firm grip on the benefits of homeschooling independently and allow your children to learn with reckless abandon. You don't need to be a certified teacher or have college credentials to homeschool your children. Teachers learn to teach groups and manage a classroom. While those are valuable classroom skills, they are not necessary in your homeschool. Don't let anyone make you feel afraid of college, scholarships, transcript, diploma, or career preparation – the average parent is completely capable of homeschooling children successfully into adulthood.


While you revel in your freedom, don't forget the prime directive: education. You could get lost in your freedom and spend years in your pajamas in front of a flashing screen, but freedom means responsibility. You don't want to produce feral children, like cats left free to forage on their own. You don't want to produce moral, faithful, but illiterate children who love the Lord but can't spell to save their lives. Educate on purpose while parenting your children, so you can shape and mold their heart and soul as they grow.

Chill out
Relax! Homeschooling is fun! You're not jumping out of the frying pan into the fire. Homeschooling is a very real, legitimate, no-more-tears formula for educating children. Children should learn at their own pace. Keep moving forward in your plan to educate your kids. Make sure each subject is challenging, but not overwhelming, so they can enjoy learning. As you shape and mold your children's character and behavior, it becomes easier to enjoy homeschooling. Grab some iced tea or lemonade and put your feet up. Relax! This homeschooling thing is gonna be fun!

Homeschool Independence Checklist
1. Check your state homeschool law
2. Locate support
3. Determine your interim plan
4. Get to know your child
5. Learn more about homeschooling
6. Plan your subjects
7. Choose your resources
8. Purchase materials
9. Learn on purpose every day
10. Keep calm and homeschool on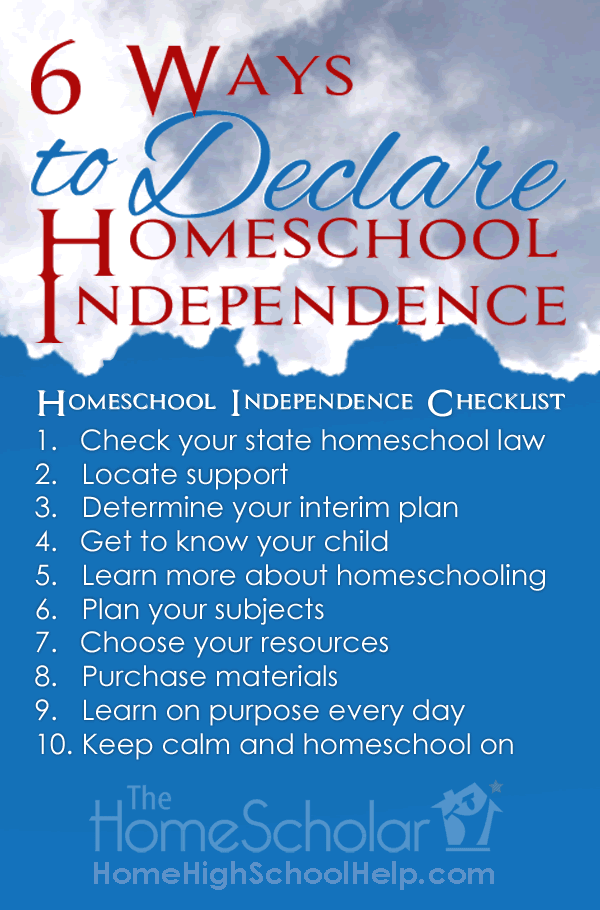 ---
Copyright © 2017 The HomeScholar LLC, www.HomeHighSchoolHelp.com. Text may be reprinted without permission if used in full, except for use in a book or other publication for rent or for sale. Reprint must include this copyright, bio (below), and the original URL link (https://HomeHighSchoolHelp.com/6-ways-to-declare-homeschool-independence).

Lee Binz, The HomeScholar, specializes in helping parents homeschool high school. Get Lee's FREE Resource Guide "The 5 Biggest Mistakes Parents Make Homeschooling High School" and more freebies at www.HomeHighSchoolHelp.com.
The High School Solution
Start Strong with the High School Solution

If you are a beginner to homeschooling high school, and prefer working independently, consider the High School Solution, which provides over 34 hours of training classes for parents, all with handouts or workbooks plus articles.

The High School Solution provides the resources you'll need for planning high school, including tools for each stage and guidance on teaching the toughest subjects.

---

How to Homeschool Independently: Do-it-Yourself Secrets to Rekindle the Love of Learning
(Coffee Break Book) [Kindle Edition]

Learn why "old-fashioned" homeschooling is still your best bet for growing passionate learners! Homeschool independently and take your life back! Instead of a "one-size-fits-all" assembly-line education, choose the freedome to teach your children at their pace and consistent with your values. Pursue happiness while homeschooling, instead of pursuing the busyness so common in our society.

Learn to identify and eliminate sources of educational dependence, regain your peace of mind, and rekindle your children's love of learning. Be a fearless leader! Declare your independence from the public system and rigid classroom structure. Create an education for your child that is a perfect fit.

---

Learn The 5 Biggest Mistakes Parents Make Homeschooling High School
Avoid Stumbling Blocks and Pitfalls on Your Way to Homeschool Graduation

The biggest obstacle to success is fear. Fear of the unknown, fear of the big, scary-sounding subjects, and fear of record keeping requirements can immobilize parents. These five common blunders can cost your child dearly in the college admission and scholarship sweepstakes. Heed this friendly warning from a parent who has been there and lived to tell the tale.

The first mistake may cripple plans if your child ever changes their mind (what teen doesn't?!). The second mistake may leave your child unprepared for college! The third mistake may result in the loss of thousands of dollars in financial aid! The fourth mistake may cause your child to be lost in the crowd during college admission! And the fifth mistake may render your child unable to gain admission to the college of their dreams!