Answers to ALL Your Questions


About High School Testing
1. Bring Photo ID
Bring photo identification and introduce your child to the staff on duty. The PSAT can lead to a National Merit Scholarship - which means a lot of money. They need to make absolute sure that each student is who they say they are. Your child will need some identification with a picture! Does your child have photo ID yet? You can use a driver's license or state identification card. Some homeschool families will create their own "school photo ID" to use for the test.

This photo ID will be useful for other purposes, including all the tests your child may take in high school, so if they don't have a driver's permit or license, it may be worth it to get a state-issued ID. Get one today, so your child is ready to go. For more information on the scholarship, read my article, National Merit Scholarship Information for Homeschoolers.
2. Adjust Sleep Cycles Well Before the PSAT
It's so important to wake up refreshed for the test! The PSAT occurs early in the morning on a Wednesday (or Saturday), and it's not done at the kitchen table, so there is a commute involved. Part of getting a good score means showing up for the test well-rested. Not everyone can wake up bright-eyed and bushy-tailed at 6:00 am to take a long test. Give your child the best chance of being conscious by sliding their bedtime over the next few weeks, so they are used to getting up early and can be as rested as possible. This is probably the most challenging tip I have, because I know what a challenge this can be! But try anyway, and see what you can do. Good luck with that...
3. Review Your Homeschool Transcript
During the test, your child will need to fill out information about their school, so explain your homeschool to your child before they take it. The pre-test student information section will ask student's grade average and estimated exit date for high school. The PSAT is a qualifying test for the National Merit Scholarship. They don't award the scholarship based only on the test, though. They also need information on the classes a student has taken, and the grades they have received.
The PSAT is the very first step in the process, so they get this information self-reported by the student during the test. In other words, before the test even begins, the questions are about the student's performance at school. That can be difficult for a homeschool child, who has never seen a report card, and perhaps doesn't know that "social studies" means "history class." It can cause anxiety when a child feels like they have some incorrect questions, before the test even begins!
Prepare your child for those questions by showing them their high school transcript and discussing it before they take the test. Show them the classes they have taken, and explain the grades you have given. If you need help, you can create a quick transcript with the
Total Transcript Solution.
It has a free bonus called "Emergency Transcript Help" if you need to get yours done quickly.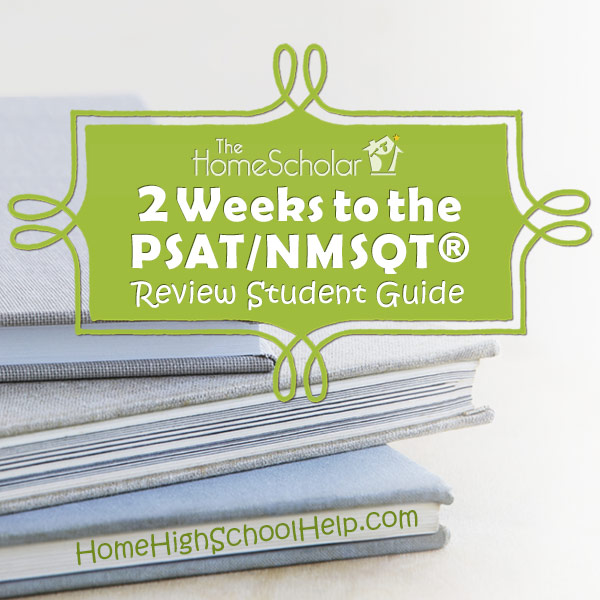 4. Review the PSAT Student Guide
Your child will need to fill in bubbles to enter their personal information before the test begins. When kids are told not to give strangers their information, they may not know what to do in this situation during the test. They need to know that it is ok for them to provide their full name and address. They also need their grade level and classes they have taken, and there are questions about their plans for college and their college major.

Plan now to help students accurately "grid-in" their information on an answer sheet by practicing filling in bubbles. Prepare them for those questions. Otherwise, your child may feel confused or anxious, and that can make them upset before the test even begins.

When you registered, you received one PSAT practice test. Parents should read all the information on that package, and share important information. They will request your email address, so discuss whether or not your child should provide that. Below is a brief overview of some additional questions that you should discuss with your child:
"National Merit Scholarship" If you want your student entered into the National Merit Scholarship Program (which I recommend) fill in the "Yes" bubble.
"Optional Codes" Some schools have codes to identify particular information. Homeschooled students and students from other schools should leave that box blank.
"Student Search Service" Students have a choice to "opt in" to Student Search Service, which allows the College Board® to provide students' basic information to eligible colleges and universities, scholarship programs, and education opportunity programs. Information about disability, self-reported parental income, Social Security numbers, phone numbers, or actual test scores are never shared.
"Grade Point Average" There will be a box where your child can fill in a bubble next to their GPA. If your student doesn't remember their precise GPA, they should give their best estimate.
"School Code" This is where the students who attend public or private school will enter the code assigned to their school. Homeschooled students should fill in the bubble that says, "No, I am homeschooled." There is no longer a specific "homeschool code"
Lastly, the test may require that the student's social security number be filled in. Talk about this with your student.
5. Become Familiar with the Testing Platform
The Bluebook Exam App is going to be very confusing to some students. It is a very different type of software and for some students it will be their first experience with a digital testing platform. Take the time to go through the Prepare and Plan section and take the practice test.

Be sure your child understands how to answer the questions, review the questions, and most importantly how to use the set of tools provided for them during the test in the Bluebook App. In the Math section there is a reference sheet and a calculator (I recommend they bring a calculator that they are comfortable using so they may not need the calculator tool in the program, but it is nice to know where it is and how to use it if need be).
One of the most important tools available is the annotation tool. Students can highlight text or leave themselves a note. Also available is the ability to mark a question for review or cross out a multiple-choice answer they know is wrong.
The digital PSAT includes keyboard shortcuts that allows students to zoom in and out, and there is a help icon available as well.
You want your child to be very comfortable with these tools at home so that on test day they have a complete understanding of the tools available, and they are confident in their ability to use them.
6. Bring a Healthy Snack
This test is not like a 50-minute math test. It's very long, with many sections. It's important to keep your child thinking clearly during the test. One big key to that is providing nutrition during the test; you aren't going to be there to feed your little hobbit "second breakfast" like they may normally enjoy at home. Plan for that mid-morning snack by bringing a healthy treat and water. You don't want them bouncing off the wall, you want them to be fed, hydrated, and ready to perform at their peak. Juices can spike blood sugar much like candy, and a lot of research shows that hydration can improve brain function, so I suggest bringing bottled water and a protein bar they enjoy.
7. Bring Four Sharpened Pencils on the PSAT Test Day
The test must be completed with a Number 2 pencil. The nightmare scenario is having a broken pencil during the test, while the timer is going. This test waits for no student! It can reduce anxiety to always have a back up pencil, easily accessible. The test is hours long, though, so these pencils will get used a lot. It's not as though you can get up in the middle of the test to find a pencil sharpener. For that reason, I suggest taking multiple sharpened pencils, plus a manual pencil sharpener.

Talk to your child about putting their spare pencils on the desk when they first sit down, so they are ready when needed. For techie students, make sure they are used to using a pencil, and know how to use a manual pencil sharpener. For overly-kind and considerate homeschoolers, sending them with multiple pencils can allow them to share a sharp pencil with a neighbor if asked, and not put themselves at a disadvantage because they shared.
8. No Candy During the PSAT
Candy is a great reward for a job well done, but don't give your child candy to take to the test! A sudden jolt of sugar can increase your energy level, but the problem is that it's temporary. That sugar rush will only last a short time, and then when the body compensates for all the sugar, your child is left with a candy crash, and low blood sugar levels.

Ultimately, giving your child sugar for the test may help them perform well for the first 1/2 hour, but after that they will perform much, MUCH worse. It's so tempting as a parent to try to help them by providing candy. Don't do it! It can reduce their test score. Save it until after the test.
9. Bring a Familiar Calculator
Using calculators for high school math is important, so they can quickly do the facts and still have enough time for complicated equations. If you haven't started allowing calculators, now is the time. It's still important to use mental math to estimate an answer first, to be sure the calculator answer is accurate. Part of scoring well is answering questions quickly, so a calculator can make a huge difference.

You need the right calculator, though - one that is simple enough to use, and familiar enough so they can use it quickly. Bring a calculator your child knows how to use, and is the most comfortable with. Now is no time for them to be fiddling around with a new gadget, or looking for the plus sign in the wrong place. Calculators on electronic devices are not allowed. By the way, do your children know that turning off electronic devices means "off" not "mute"?
10. Identify Pick-up Location for After the PSAT
Homeschoolers don't spend their days in a public school, and may never have stepped foot into the test location before. A new environment can be stressful for a child, and you can make it easier by dropping them off at the correct room and picking them up promptly. As you walk into the test venue, choose a pick up location. Show them exactly where they will be when the test has ended and be ready to pick them up on time.

You may want to bring a book to read while you are waiting for your child. Although the test sections are timed, the breaks between sections can make the test longer, so you may need to wait. Don't worry! If they seem like they are late coming out of the test, that means they were given enough time between sections to clear their mind. It's not a bad thing! But in case they are earlier than expected, you will want to be ready to pick them up.
11. Pick an Answer
There may be some answers that your child simply can't answer. Unlike the old PSAT, the redesigned PSAT gives no penalties for wrong answers. Given that something is always better than zero, I suggest that you and your child pick a letter (A, B, C, or D) rather than leaving the question blank.
12. Eat a Breakfast with Protein
Have I mentioned that the PSAT is a long test? The test itself is only a couple of hours, but from the time you leave home until you pick up your child can be a long time! It takes a long time for the test administrator to coordinate a test with that many children and get everyone settled. Then the students have to fill out the personal information, which also takes a while, and the test hasn't even begun yet! Include the time allowed for breaks and it adds up to a long test.

That is a long time for a child to be expected to perform well, and a nutritious breakfast is critical. Once, when I picked up my child from a test, one young woman was walking out looking very pale. She was explaining to another girl that she had forgotten to eat breakfast that morning - and it was well past noon! Give your child a good breakfast they like, that includes protein, so they will stay full and satisfied for a long time, and are able to think their best, all the way through until the end of the test.
13. Locate the Bathroom at the PSAT Testing Site
I can't over-state the importance of this one! By far the most important tip for the day is to locate the bathroom. The homeschool kids at the test may have no idea where the bathroom is, or how long it takes to walk there, and how to find their way back to the test afterward. Now is no time to act cool - now is the time to locate that bathroom! I know one young person who took the test and skipped the bathroom break, because they were unsure where it was located. Later, because the bathroom was urgently needed, part of a section was left completely blank while the bathroom was located mid-test. Failing to locate the bathroom before the PSAT can cost a lot of points on that test.
14. Remember - the PSAT is a Practice Test
The PSAT is a practice SAT test, not a test that determines your child's future somehow. Unless your child is a junior, and regularly scores above the 95th percentile, this test will be simply for practice. It's best to take a practice test in a real-life situation. Sure, practicing at home and timing each section can give you some practice, but nothing can prepare your child for taking a college admission test the way a real test can! Sitting with so many other people, with all the distractions, can be a challenge! Your child may experience the ambiance of sneezing, swearing, tattooed, pierced, and strangely-dressed teenagers.
Bonus PSAT Tip - Celebrate Success
Time to celebrate! When you are done with the test, think of some way to mark the occasion with fun. Plan a special meal or birthday-like surprise. Crafty super-moms might make a cake with "You did it!" or a pizza cookie spelling out "I survived the PSAT." Try to think of a way to make this whole experience blend into a positive memory for your child. The main purpose is to practice for the college admission tests they need to take in the future. Above all, remember the PSAT doesn't measure the most important thing: character. See
Qualities NOT Measured by Tests [Free Printable Poster]
Do what you can to make this a pleasant memory, so they won't be overwhelmingly nervous or upset before the next test. At this point, the definition of success is that your sweet child has done it - completed the test - and lived to tell the tale. It's a rite of passage and a symbol of adulthood. It deserves a pat on the back! Your child was able to learn about this test environment now, when the test doesn't matter. And they survived to tell about it!